This is another throwback picture from the summer, although I probably could have worn something similar today considering how warm it was. It was a record 67 degrees today in NJ on the second day of winter. Even with Christmas a couple of days away, this year hasn't quite felt as spirited and holiday-like for some reason. Hopefully with friends coming back into town and the weather cooling back down, it'll start feeling a little more like Christmas.
Clover Canyon is known for some vivid and unique graphic prints. I am especially obsessed with their mirror printed pieces at the moment. This neoprene mini skirt is a great piece on it's own, which is why I paired it with a simple over-sized t-shirt and neutral sandals. Only problem with this skirt is that whenever I walk in it, it tends to hike up and I spend half my time pulling it back down. Anyone have a solution to this? The only thing I've found that works so far (besides taping it to my thighs) is taking smaller steps but I look a little ridiculous walking like that.
I am a huge fan of my short hair in these photos. I don't know why it took me so long to take a chance and cut it sort for the summer months. It was so much easier to manage and in these pictures, it looks really healthy. My hair has already grown out past my shoulders now, but winter is a good time for long hair. Keeps you warm! However, when summer comes, I won't hesitate to chop it off again!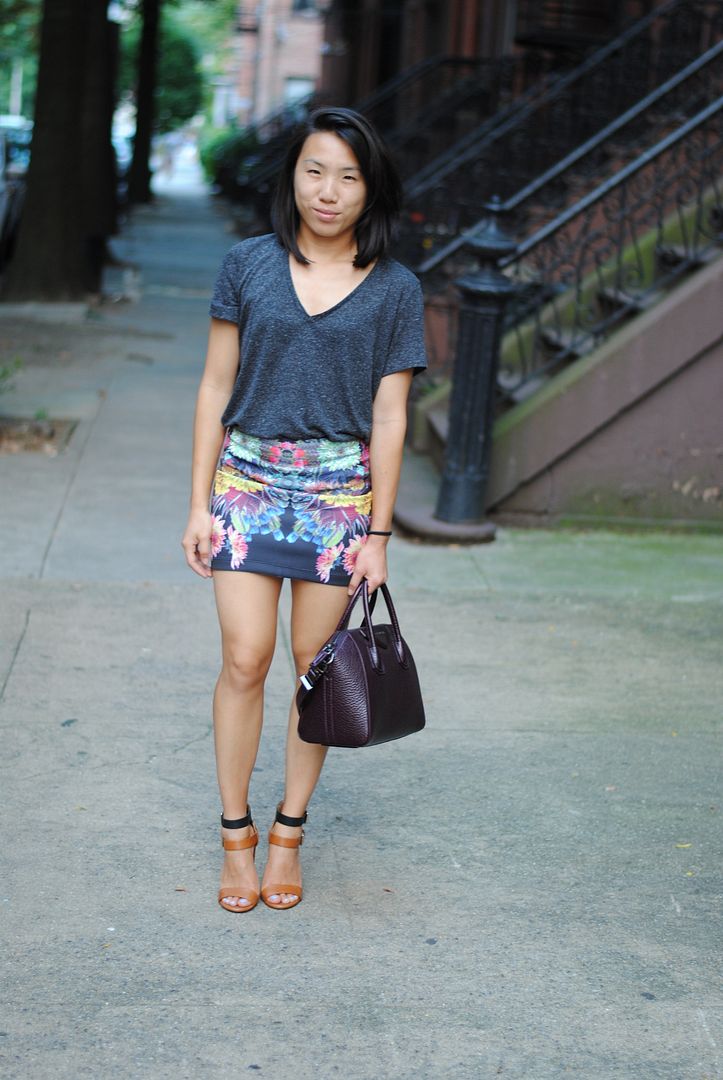 (t-shirt: Madewell |skirt: Clover Canyon |sandals: Zara |bag: Givenchy)