Instagram snapshots of Vermont starting with the chillest dog ever. He was just laying on the ground like this when we first arrived and I couldn't resist taking a picture. He belonged to someone who worked at the inn, it was amazing how good he was, just hanging around for all the festivities and spending much of his time lounging in the sun like below.
This is a shot of the bouquet a bridesmaid held, I loved the color scheme and how simple they were. I'll have to keep these in mind if I ever get hitched. The color scheme of the wedding was pink for the girls and this deep purple-y flower for the boys, so the bouquet did a great job of incorporating both colors. The name escapes me at the moment, but I'm pretty sure I saw them in
this
episode of
Candidly Nicole
. Side note, Candidly Nicole is a great little web series, short, sweet, and super amusing to me. Definitely worth watching!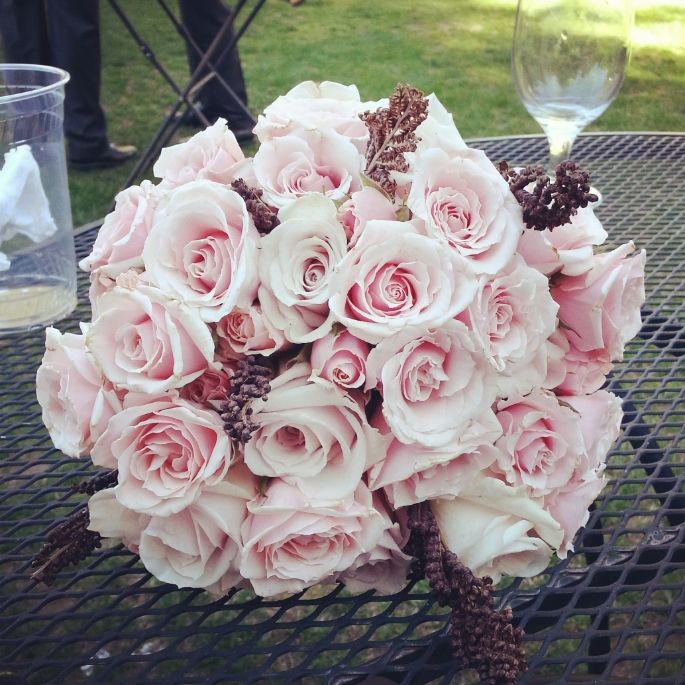 I took a photograph of chairs set up before the ceremony. You can see in the photo the small garden maze and alpaca farm in the background, not to mention the beautiful mountain and blue skies that we were lucky enough to enjoy all weekend.
Last but not least, the boyfriend and I during the wedding. He wore a gray suit that all the groomsmen got. I went with a dress I purchased from
Nasty Gal
that worked super well with the outdoor wedding ceremony because of the airiness of the dress.
And the fact that I got this dress on sale doesn't hurt either. Yay for sales!
For these photos and more, follow me on
Instagram @myblissisthisway
.