I'm leaving on Friday to go to another wedding in Birmingham, Alabama so I thought it'd be appropriate to post the outfit from the wedding I went to in January. Time is flying, and I can't believe it's already March!
A lot more thought went into buying my boyfriend's suit than my dress, we ended up getting him the Ludlow suit from J.Crew and with a little tailoring, it fits pretty damn well. As the meme goes, "A well tailored suit is to women what lingerie is to men."
I've been slowly hoarding dresses on sale because I'm at the age of attending weddings and I don't feel like having to spend a fortune on each one to wear something new. This little number was purchased on sale at Topshop. It was getting dark when this photograph was taken so it was hard to capture the true color of the dress, which was an iridescent lavender.. kind of holiday-ish, and perfect for a winter wedding. Luckily the wedding was in South Carolina so I wasn't freezing in mid January. The tuxedo-esque blazer is from Zara that I was dying to get and managed to wait it out until it went on sale. The shoes I purchased because of seeing them on my co-worker and the shape immediately reminded me of a much more affordable YSL pump. Lastly, my clutch is Alexander Wang (surprise surprise). A black clutch was something my wardrobe was lacking. With all these occasions to dress up, I need something to hold a lip stain and cell phone to get me through the night!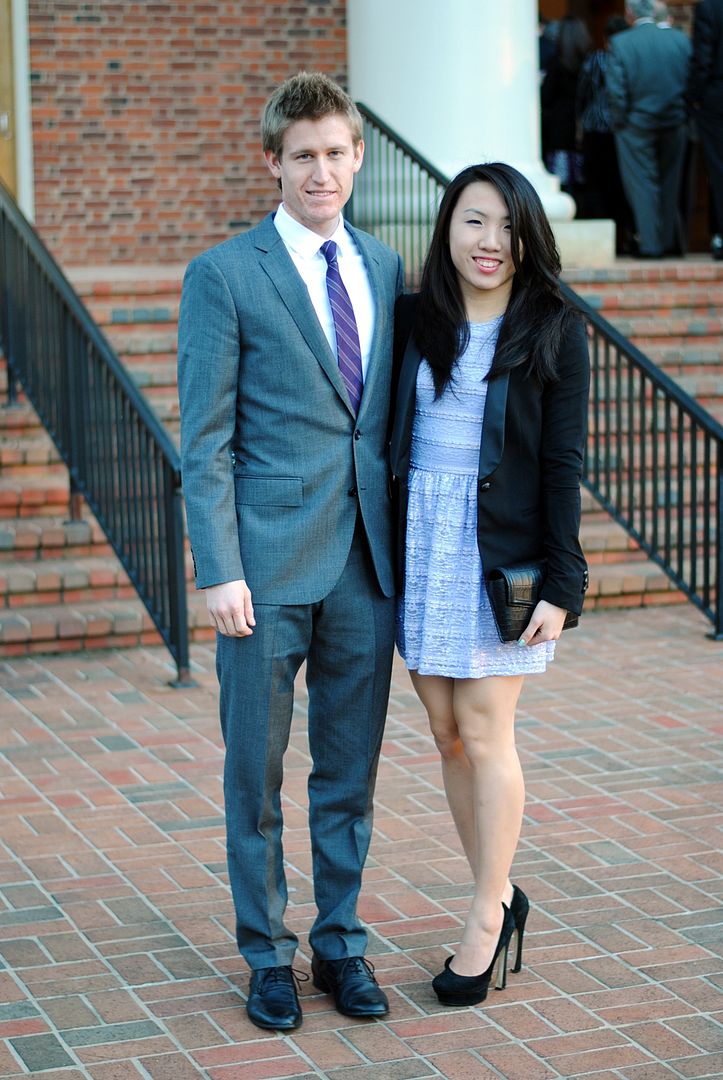 (suit: J.Crew Ludlow |dress: Topshop |blazer: Zara |shoes: Zigi Soho Studious |clutch: Alexander Wang)