As you all probably know, the Prabal Gurung x Target collection launched yesterday in stores and online. I haven't seen many bloggers post about their hauls and outfits yet, so I figured I'd start!
A good friend of mine kindly reminded me on Friday about the collection when she started to comment about all the looks she liked. My initial impression of the lookbook was how bright and vibrant the colors and patterns were. Among my favorites are the white skater style dress with the colorful floral print and any/all of the mirror print items.
The snowstorm on Friday/Saturday came and went.. on Sunday I woke up bright and early, dug my car out of a mound of snow, and proceeded to go to the nearest Target. Unfortunately by the time I arrived (around 10:30 am) all the good items and small sizes had been snatched up where everything was displayed. I stalked the fitting room area to see if any items had been tried on and not put back yet. I found the floral print dress, but not in my size, so I settled with trying on the peplum top with the same print. To my surprise, the size 4 in the peplum top fit me. On the rack it seemed large and I heard other customers talking about the line while I was trying things on saying they thought the collection ran big. I was sold when I tried on the top, it could be a tad more fitted, but overall I like it a lot. The peplum is right on trend as well and the print is just screaming warm weather.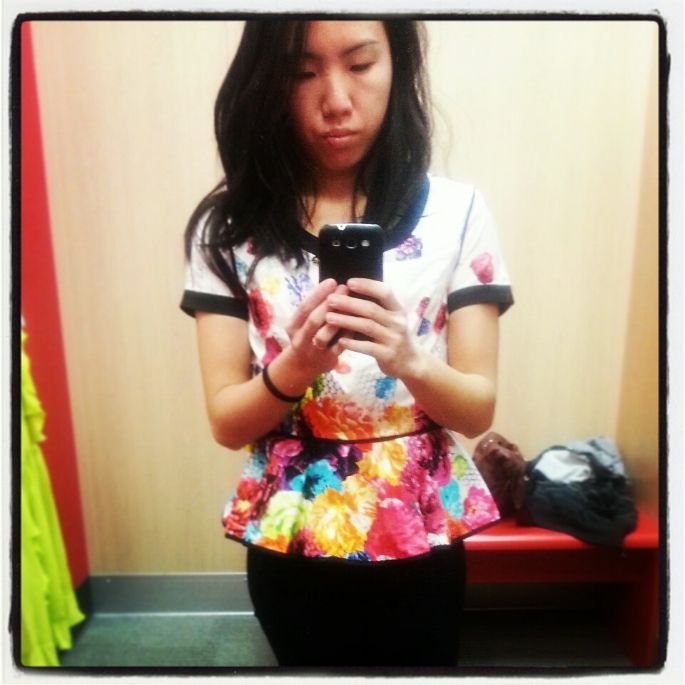 Logically, my next move was to go to find another Target with more items. Cut to me driving another 30 minutes in hopes of finding my beloved dress. Unfortunately, the second Target was sold out as well, only having large sizes, though they had a lot of stock in other items. I ended up trying on the red version of the dress and learned that it's probably for the best that I don't go searching anymore for the floral print dress because the style just doesn't suit me. Instead I left with a mirror print sweatshirt that I actually spied on Zoe Saldana today online (click
here
). Been lusting after some mirror print dresses, but I think this sweatshirt will satisfy the craving for now.
This collection is pretty awesome and super affordable. Most items ranged from $25 - $35 which makes it accessible to everyone. On Sunday, my friend let me know that items were already showing up on Ebay marked up, so grab your Prabal Gurung x Target pieces at your nearest Target as soon as you can!!
Lastly, on a separate note, I am proud to say that I was featured in a post on the blog,
Fashion Treatment
in their weekly roundup along with a number of other fabulous bloggers. This is one of my first features, so I'm super excited, thank you ladies for including me in your post!