It's not quite Christmas yet but my boyfriend and I did our gift exchange early because he had to travel home to Ohio for Christmas with his family. He's so sweet and remembered that I was lusting after the
Gabriela Artigas X Sincerely Jules Knot Ring
that I sent him a link to a while back. It came in simple but adorable packaging that I loved and a handwritten message from Jules herself (I believe) which basically said to always follow your dreams. Even though the message is probably what she writes with every ring, I think it's was an incredibly sweet and true statement and appreciated that she took the time to write it. It's such simple and delicate ring, making it easy to pair with any outfit. I like how it's meant to be worn above the knuckle making it a tad bit unique. Thank you to my super awesome boyfriend for this lovely ring!
If you are interested in purchasing this ring, you can find it
here
!
Side note, the nail polish I have on in these photos is all Deborah Lippmann. My pointer finger is called Mermaid's Dream which I recently purchased on Ebay. It's a beautiful color and the name suits it perfectly. The rest of my fingers have remnants of Happy Birthday which is pure glitter. To achieve the look I got, it requires a ton of layers and patience to get the glitter to stay on your fingers. It's a pain but it looks super fun in the end and I always get a lot of compliments! Great for the holidays!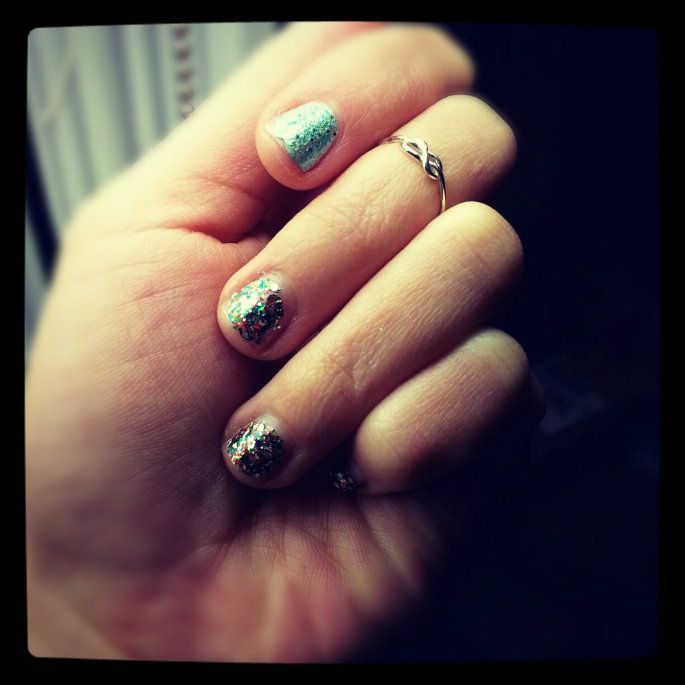 (ring: Gabriela Artigas X Sincerely Jules Knot Ring)